'Cos I never do picture posts - mostly due to the fact my camera no longer works and I can't afford a new one :o(
Anyway - cruising around the Blogging World I see so many celebrations for babies' first years and I can't believe it!! All you moms must be so proud! I can't believe a whole year has gone by since you were all posting your wonderful news about the birth of your children - and yet it also seems as if so much has happened for everybody in this past year that it's incredible that
only
a year has passed.
Many of the babies at work are celebrating their first birthday this month and it has got me to thinking about how much has happened within a year for me too. This time last year I was mega stressed (as was the norm for me) about my essay deadlines and then suddenly something dropped and I went "F**k it - I don't care anymore" and I truly meant it. I was very glad about that because the University lecturers went on a nationwide strike and we weren't even sure we'd have our exams and nothing was being marked and that year was worth 80% of our 4 year degree (yeah don't ask me how they worked that one out - I still don't know!!)
Anyhow - it has taken me a year (in which SO much has happened) to change my answer to the question "Was it worth it?" from a resounding "NO!" to a "maybe..." Perhaps in another year's time my answer will be a resounding "YES!"..?
I don't have pictures for the last few months - but I've been blogging about most of those anyway! So here is the past year of my life in pictures - 'cos pictures are FUN!
These were taken on my birthday last year - we went bowling and then played pool - it was fun and a lovely break from the essay writing!!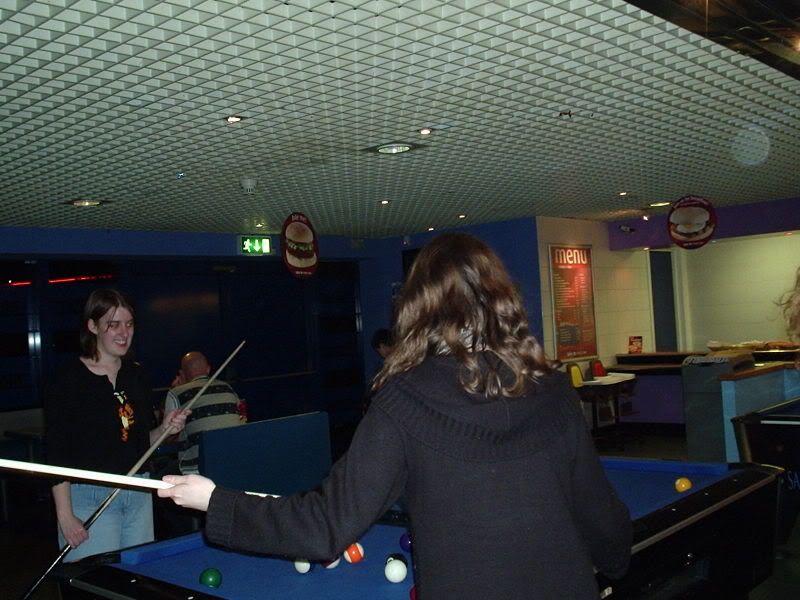 After my German oral exam I went for a wander around campus and decided to take photos of the areas around the lake (I have many more photos which I promise to share in a later post). This is where I used to walk on my way home from lectures each day - gosh I miss it - it was SO beautiful!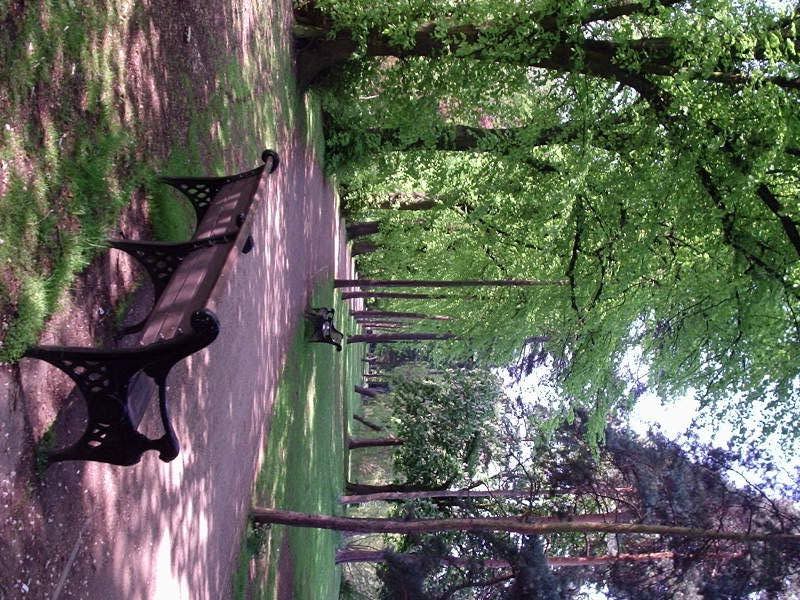 This is a picture of me and some friends taken just after we had collected our graduation garb and before the ceremony! It was one of the hottest days of the year and we were all dressed in heavy, black whatever you call those things, stood in increasingly long queues waiting for our official photos to be taken! Thankfully they handed out water bottles to us all!! It was a good day - my parents had somehow managed to book a holiday for the same week as my graduation so they had to travel down the country (luckily they were still IN the country) to see me. I also had to go out to the shops that morning to buy a white shirt because the one I had planned on wearing was far too hot and had some buttons missing and I had no sewing kit with me!! It was a good day - despite my reservations - and my parents got to meet some of my lecturers which they loved!
Then I had about 3 months to spare - and spent most of it running around the country meeting people, visiting friends and family - but the highlight had to be one weekend when I got to meet some of the members from the online forum I am an admin for. At that stage the forum was less than a year old and we had worked so hard to create a community - helping people to understand the technical stuff, getting through a really rough time full of many disputes etc. After that the weekend was just amazing!!
This is a picture taken in Glastonbury Abbey and is of (from left to right): me; my friend who is kinda like an adotped online mother to me and who has been brutally honest with me in the pastand challenged me to look at myself and grow into who I want to be; another friend from Switzerland who is so like me it is unbelievable; and the board owner who came all the way over from Arizona to meet us all!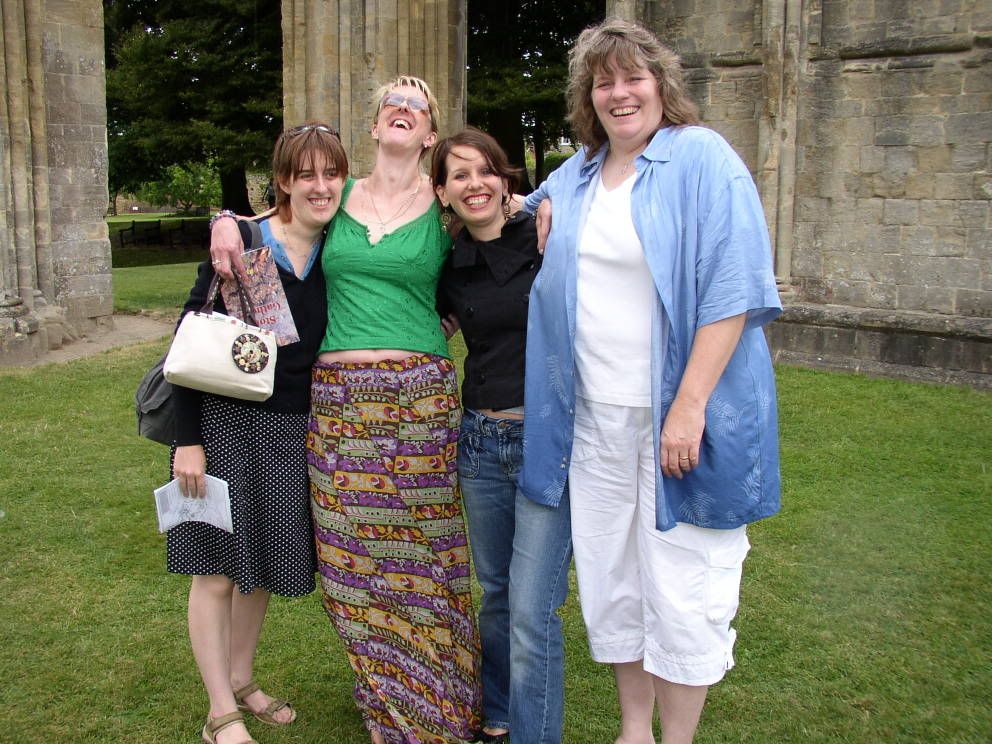 This is a picture of another dear friend of mine (also taken in the Abbey) note a) how wet I am - I was not prepared for the rain though I should have known better - this is England lol and b) how short I am compared to most people! In fact, although I had told people I was short and shy in person everybody was shocked at how short and quiet I was! (btw I'm not
that
short - everybody else is just bigger than me hehe)
Slightly off topic (but who cares) that lovely man you see above sent me this lovely little gift through the post when he knew I was so stressed about uni - he called it Teddykins and wrote me a wonderful little card to go with it! He is a darling and I am so blessed to have so many wonderful friends!
Here's Teddykins:
Back to Glastonbury! This was taken in Glastonbury Abbey - and whoever took it seems to have been so taken by the magnificence of it all they couldn't take a straight photo LOL
This photo was taken in the Chalice Well Gardens which are the most amazing gardens I have ever seen! It is rife with butterflies, blooming flowers, crystal clear waters from the well, dragonflies... gosh I could have stayed there forever!! (Note also the change in the weather from the Abbey and the Gardens! Typically British!!)
Just outside the Gardens!
And in Glastonbury town centre itself!
Later that summer I headed to the South of Britain to volunteer at the camp for disabled teenagers. I missed it the previous year so was glad to go again last year! I was a patrol leader for the first time (it was my 3rd camp) and it was a challenging year - well they are all challenging years but this was particularly challenging. Until last year I had worked with physically disabled campers. But due to ongoing ill-health (the reason I had missed the previous year's camp) I had requested a non-lifting role. Of course, I ended up lifting far more than most despite this because I am a strong and confident lifter. But because of requesting a non-lifting role I ended up with one of the more challenging campers who has
Prada Willis Syndrome
. It was so tough - and add to that I had a camper with brain damage who would have mood swings all the time and all the voluteers in my patrol were new to the camp so took a couple of days to settle in - AND I had a stress and cheese induced two-day long migraine (in which my vision blurred) right in the middle of it - well I was knackered by the end of it. And then I went home to find my sister had been diagnosed with clinical depression and with all of that I eneded up dreaming about it all for 2 weeks - even getting up in the night to do things and waking up in the morning and realising what I had done! But despite all that I am still looking forward to going back on camp again this year - I live to look after others - I love it!
This is a picture of my patrol (on one of the colder days!)
This is a picture taken at the end of our very last Patrol Leaders' meeting - each patrol had one able-bodied and one disabled camper as leaders - whose role it was to meet with the camp leader to discuss any concerns within the patrol and then pass on information to the patrol regards outings, activities etc that the camp leader told us about!
And this is one of my favourite people of all time - she looked after me on my very first camp! And I have written some of my best stories for her! Note how she is well dressed for the disco and I am still wearing my ever-trusty hoodie hehe
And this was my claim to fame in the summer. There is a yearly event in Cambridge called The
Strawberry Fair
. Anna and I went and had no idea this photo had been take - so I opened the local newspaper the following week to see myself looking out at me - weird!! I told Rhiannon I now knew what it felt like to be a celebrity and open the paper to find that the paparazzi had shot you - and she thought it hilarious!! (Silly 'Manda!)
And this, for the record, is Rhiannon. My mum looked after her when she was a baby 'til the age of 6 and she still sees us and is kinda like a sister-who-isn't ;o) This was us trying to look "COOL" in my sunglasses - or rather Rhiannon laughing at me and telling me I looked ridiculous in my old sunglasses and me trying to tell her
she
would look cool in them lol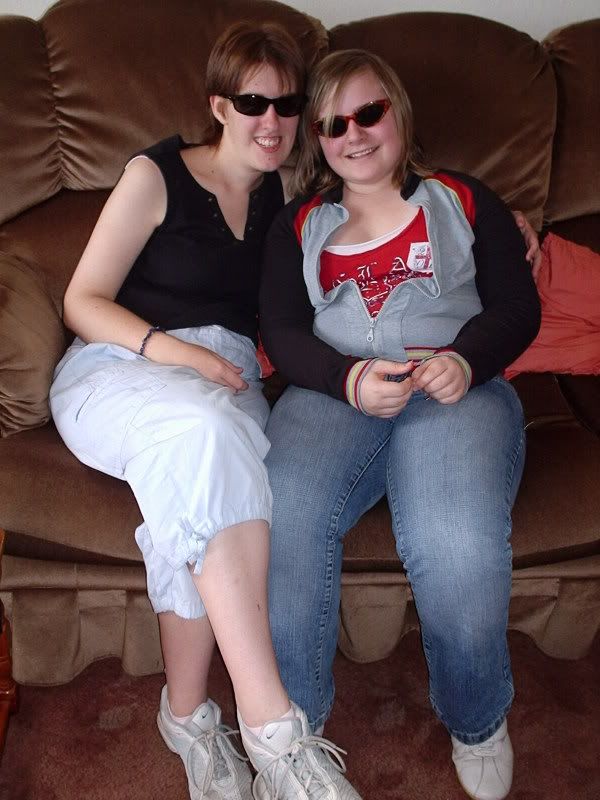 That's it - I've run out of photos - even though that only takes us to about Septembert 2006...
I've been a busy bunny and it's good to look back! Since then I have moved to Cambridge, had two jobs, have lived in two houses and am moving back to Lincoln, have dealt with a "friend" who tried to screw me over (won't go into that - let's just say it made me realise how often I let people walk all over me), and set up an eBay shop and started running an online writer's course which is going so well - oh and I wrote some song lyrics for someone yesterday lol... busy busy busy...
I hope you enjoyed the piccies as much as I enjoy looking at all yours!