I've been putting this post off because a) this week has been mighty hectic and b) my last post was number 111 and I love that number!
But I promised a more detailed account of camp so here it is.
My Camper and I
I travelled down to the campsite via train. I actually went part the way on Friday so I only had to go from Cambridge to Farnham on Saturday - that was enough!! With my hefty rucksack and sleeping bag jutting out about twice my width I braved the underground (is it just me or do people see that you cannot get past them and make the effort to actually move more *into* your way?!) I had to get off at King's Cross, get the tube to Victoria, then a train to Woking, then one to Farnham and then a taxi to the campsite... can you tell now why I did the journey to Cambridge the day before??
The Chapel on the campsite
Anyway it was so hot - it always is the week I go on camp! I got there a tad early and they wouldn't let us on the site for another 15 mins (insurance reasons or something) so I walked down the hill from where the taxi dropped me off, chatted to the leader and a couple of people also early arriving, and then trudged my way back up the hill... great start... I then spend ages moving tents before finally getting a quick break before my camper arrived. Talk about non-stop.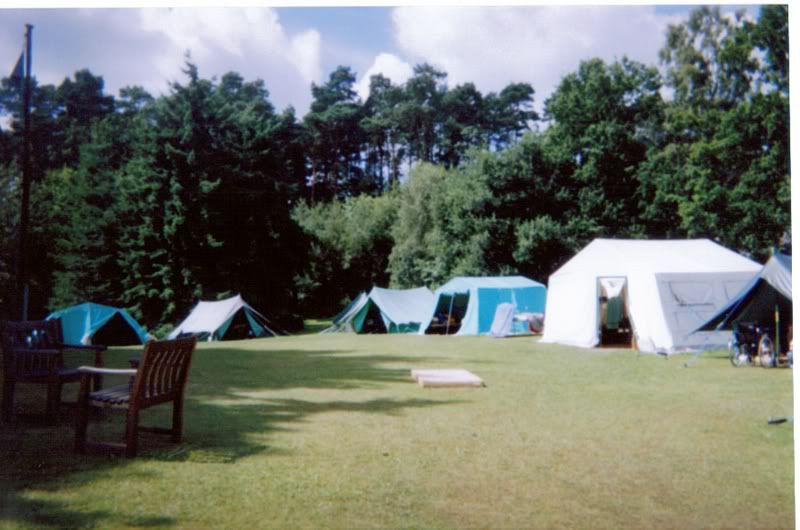 Some of the tents
My camper had complex disabilities and my care for her meant I had to learn how to give gastric feeds (through a tube into her tummy). It wasn't that difficult - once I knew about checking for air bubbles, making sure the tube clicked into place properly and knowing how the clamps worked. At the beginning of the week I was really nervous but by the end it was like second nature... get up and wait for the overnight feed to finish; unhook machine from camper, flush with water; get meds from nurse and spends ages getting them into the syringe only to push them out of syringe seconds later - follow with another flush of water; give 3 or 4 (on extra hot days) flushes through day (giving more meds - and messing around trying to open capsules and suck up thick, gloopy meds into syringe too big to fit in the cup the meds came in (D'oh) at lunch time) ; end day by giving more meds and hooking camper back up to machine, hoping it had already been set up right and wouldn't beep incessantly at me when I turned it on! Simple, really ;o)
My camper and I swimming
I felt quite priviledged to have been entrusted with such care and it did so much to boost my confidence. The past couple of years I have had more "challenging" campers which shows they really trust my ability - especially as they just let me get on with it, knowing I'll seek professional help/guidance when I need it. I guess, to be fair, my age and experience working in other care environments helps too!
My camper and an old friend at the campfire
Anyway - my camper was a darling. She couldn't speak, save saying "Oh dear!" a lot when we lifted her out of her chair to change her - usually followed by fits of giggles as one of us bashed ourselves on a bit of the wheelchair which stuck out or knocked something over. Yes, my camper, like many of the wonderful campers, found it hilarious if ever you hurt yourself. I came home with bruises that are still visible now - and I don't bruise easily!! Needless to say, she laughed at me a lot!!
Laughing at our uselessness!!
We also laughed a lot, especially when I managed to do things like knock the bowl of water I was washing her with off the changing bed and all over the floor, onto an electrical battery charger, in the middle of a thunder storm - WHOOOOOOPS!!! Sometimes we laughed because it was so funny - other times we had to laugh or else we might have cried/screamed - usually when our camper squeezed her arms close to her body mid-lift meaning our wrists almost snapped as they were bent in an awkward position, trapped between her incredibly strong grip and her rock-solid back brace!!
Singing by the campfire


Our days out caused more fun - mostly to do with going to the toilet! I never really thought about disabled toilets much before. I mean, whenever I looked after a camper who needed to use a disabled toilet they were able to sit upright with a little help, so it was simply a matter of lifting them out of the chair and on to the toilet seat. This time my camper wore nappies and we always changed her on a changing bed whilst on the campsite. And have you ever seen one of those in a public disabled toilet?? We had to change the poor darling on the floor of the disabled loo in a shopping centre one day and the next day on the floor of a very small toilet on a rather small river boat! With her head hanging out the door and my co-carer protecting said head, I stood over her legs, bent double so I could see what I was doing. This would have been hard enough, but add in the fact that the boat was, at that very moment, doing a U-turn and the person driving couldn't even steer straight in the first place, I spent a lot of it trying hard not to bash my head against the toilet itself! We both felt a little bit seasick after that experience - though I have to say I found it quite funny, even at the time - and our camper thought it hilarious!!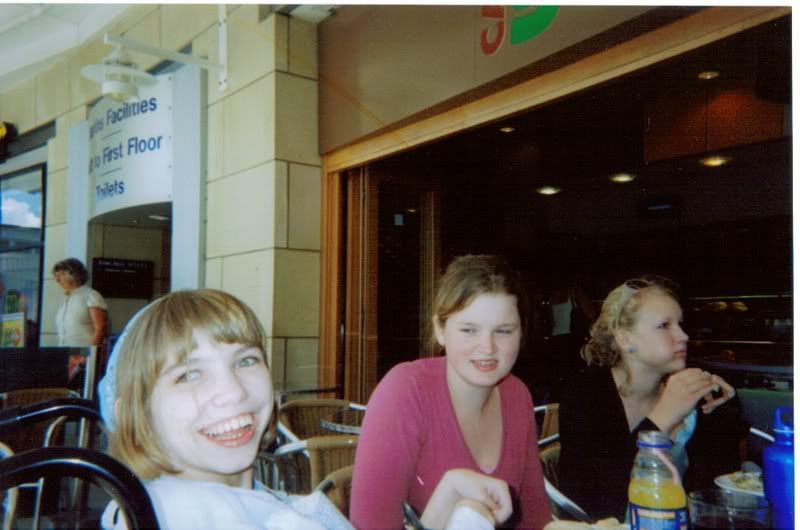 One of our days out
I think my co-carer was a tad overwhelmed by the whole thing - not surprising it being her first time and all - I had such an easy camper my first year and I still found it hard going!! I don't think she quite saw the funny side as much as I did, either... maybe I just have a wacky sense of humour... in fact I know I have a wacky sense of humour and I guess it really helps at such times as these, when you're working on one or two hours sleep a night and constantly trying to figure out if the mad waving of the arm your camper is giving means "I'm in pain", "I'm hungry", "I'm bored" or something else entirely!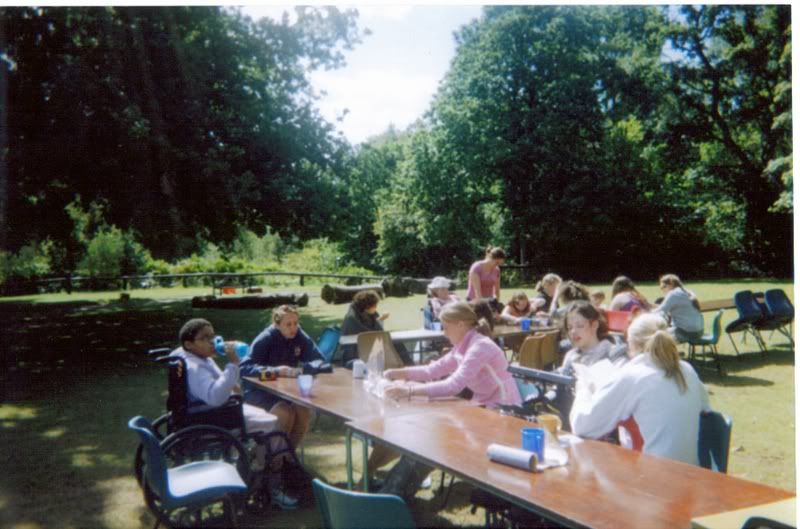 Patrol Craft Time
But I had such an incredible time I can't wait to go back next year. And all I could think about on my long journey home was how much I am meant to do this work and how very unfair it is that such work is so low paid I can't really afford to make a long-term career out of it. But great news awaited me upon my return home as I am currently expecting a call about a possible opportunity which is perfect for me right now - more on that another day!
Oh, my journey back was even longer btw! I had to cancel my trip to Cambridge post-camp for family reasons so it involved: catching a lift with another carer back to her hometown of Surbiton; catching the train to Waterloo; spending ages in a queue and then arguing with someone over the cheapest way to change my route (I only had tickets for a route via Cambridge which added a lot of time to my overall journey!) only to have her say "there is no other way"; catching the tube to King's Cross only to find the line I needed was closed and having to find another route; buying a ticket at King's Cross which allowed me to go a much more direct route home (so I have no idea what the other woman at the other station was on about!); getting a train to Retford; and then a rickety old bus which had no aircon, couldn't get up hills very well (and we went through lots of villages with hills) to get back to Lincoln because no trains were coming in that weekend. I was so glad to get home and then I had to wait for my dad to pick me up, whilst desperate for the toilet (lol) before I could finally relax! Ahhhhh how nice it was to have a bath and go to bed that night!!
Dancing at the Disco!
I miss it already, but another one of the campers (the first one I ever looked after) rang me last weekend and her Nan has invited me to visit anytime! Oooh I can't wait!! She also sent me a letter with a picture she drew of herself, me and my camper :o) and I have just finished hand sewing her a headscarf that I promised as she decorated one for me on camp and they ran out so I said I'd make one specially for her! (You might have noticed it in an earlier picture!!) I'd take a piccie of the one I've just made but my camera is broken so I'll just have to tell you it's blue and spotty and fantastic hehe!!
One of many hugs!
I'm currently busy writing and producing some handmade books, so keep an eye out for future posts related to those. Also please visit my new blog Amanda's Enchanting Pages
for a taste of what's to come.